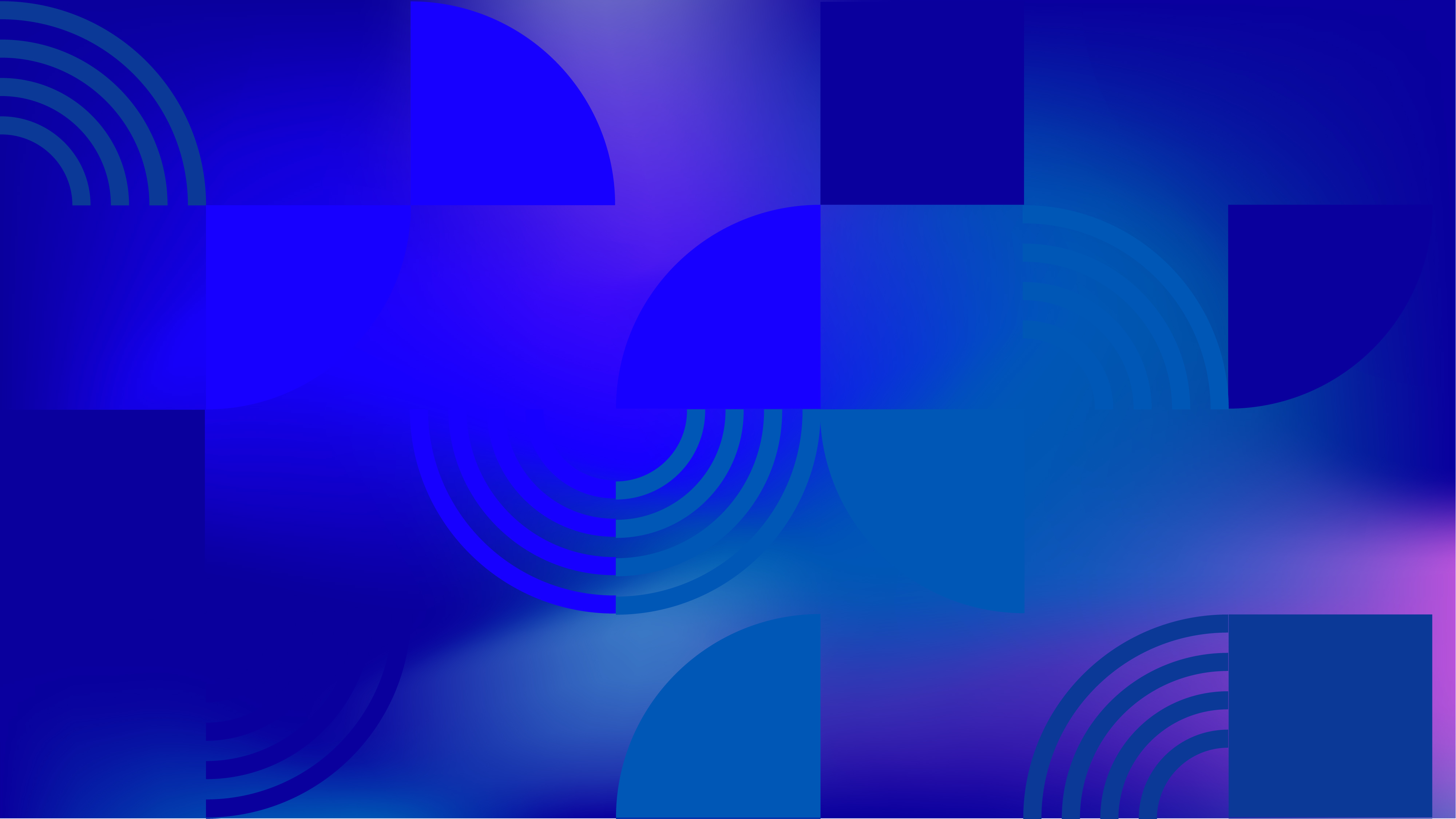 Insights
Learn About Our New Executive Director
Prior to becoming Executive Director, Maria Sjödin served as Outright's deputy executive director leading the work of the development and communications teams. In this position, they oversaw a period of extraordinary growth in visibility, diversification and increase in funding, in addition to launching groundbreaking initiatives, such as Outright's COVID-19 Global LGBTIQ and Ukraine Emergency Funds and pioneering engagement with international businesses.
Prior to coming to Outright Maria served as Executive Director of RFSL, Sweden's largest LGBTIQ organization. While in this position Maria established RFSL's international program, played a key role in ensuring that the human rights of LGBTIQ people become ingrained in the Swedish government's agenda for development and foreign affairs, advocated for marriage equality (achieved in 2009) and the abolishment of forced sterilization of trans people as a requirement for legal gender recognition (outlawed in 2013). 
Maria has conducted leadership trainings for hundreds of LGBTIQ activists on topics including strength-based coaching and appreciative inquiry. They regularly provide expert opinions to governments, foundations, UN agencies, and corporations.
To learn more about Maria's vision for Outright, read our exclusive interview with the Washington Blade.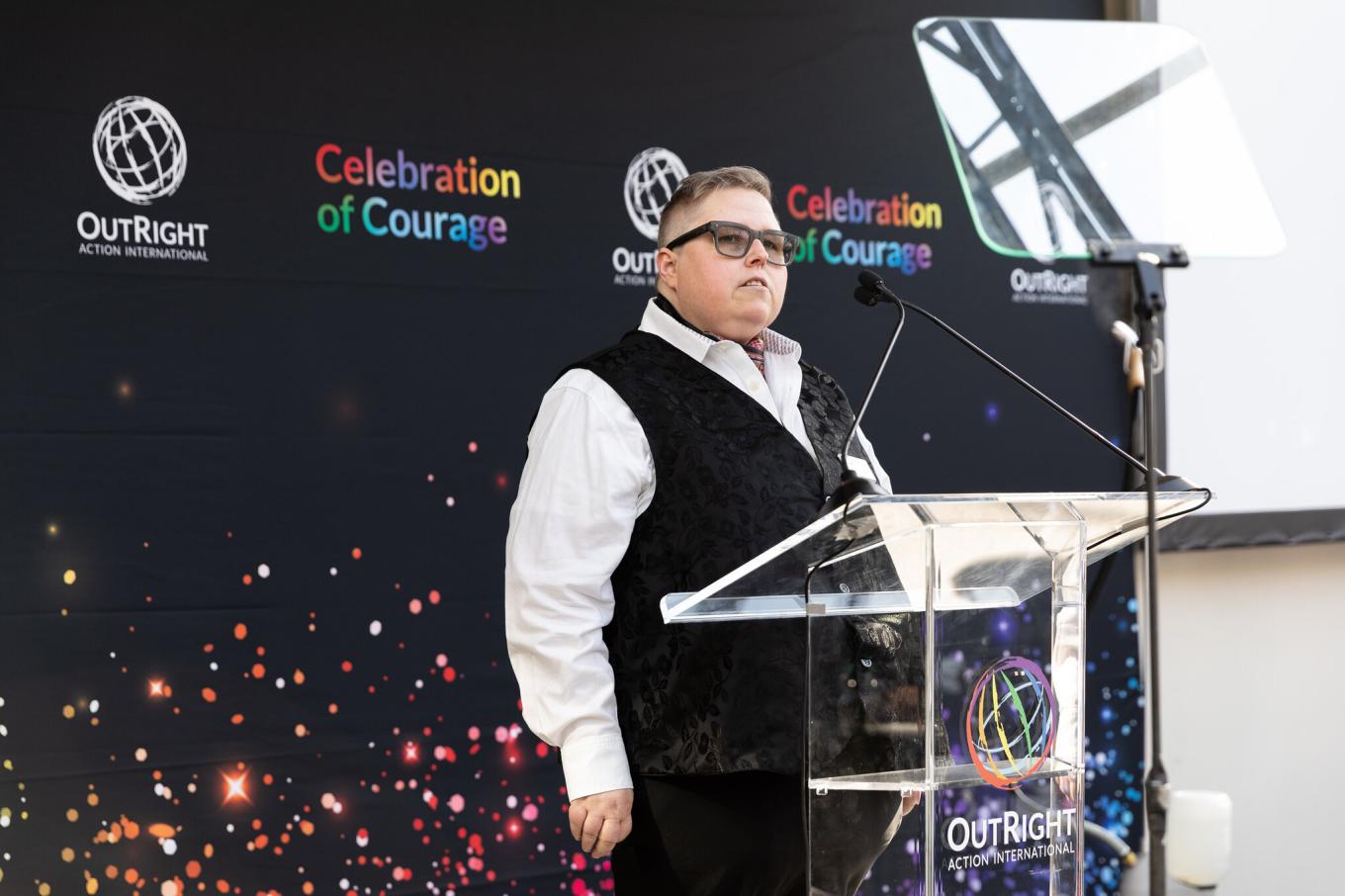 Here is how the community and global movement leaders respond Maria Sjödin's appointment as the new Executive Director
Huge congratulations from all of us at GiveOut to Outright International and Maria Sjödin on this appointment - this is brilliant news for the global LGBTQI movement. We are excited to continue our partnership with Maria and our good friends at OutRight to support LGBTQI human rights activism worldwide.

Rupert Abbott, Executive Director, GiveOut
Maria has dedicated their life to serving LGBT+ people everywhere! I've known them for ten years and the passion they have for the work, the interest and love they have for people in the movement, and decades of experience they bring to Outright and the global LGBT+ fight makes them the clear choice to lead the organization and help lead the global movement in the coming years! Our movement is stronger because of Maria. 

Amir Ashour, Founder & Chair, IraQueer 
The global LGBTI community gained a champion with the selection of Maria Sjödin as OutRight International's new executive director. Maria follows a long history of strong and dedicated organizational leadership who will lead to new levels of accomplishment. Maria is an experienced leader who deeply understands the value of supporting international leaders, activists, and organizations that are on the front lines of movements in their countries. She's a brilliant strategist, manager, visionary, and thought partner, as well as being an ethical and decent human being. OutRight's board of directors has made the perfect decision that will benefit OutRight and our global movement. 

Darrel Cummings, Retired Chief of Staff, Los Angeles LGBT Center
Maria is exactly the kind of leader our movement needs at an organization as important as OutRight. She is a seasoned nonprofit CEO who will continue to keep OutRight strong. Most important, she has vast and deep experience with the challenges and opportunities queer people are facing around the globe. The board could not have chosen a better person to lead OutRight on the next stage of its journey. 

Lorri L. Jean, Retired CEO, Los Angeles LGBT Center
On behalf of the management team and entire staff of The Initiative for Equal Rights (TIERs), I would like to congratulate Maria Sjödin on their appointment as the executive director at OutRight International. Maria's appointment is well-deserved, and we are extremely excited for them! We thank Maria for their unwavering passion to end the oppression of LGBTQI+ persons globally and for their dedication to the acceptance of queer bodies beyond borders. We are proud of our joint accomplishments under the anti-conversion practices project and we are certain that Maria's leadership will continue to support programs that promote the acceptance of LGBTQI+ persons' rights in Africa. We look forward to many more years of collaborating with you. Huge congratulations to OutRight for gaining such a leader!!! 

Oluwaremilekun Makinde, Acting Executive Director, The Initiative for Equal Rights, Nigeria
On behalf of the galck+ secretariat, we are elated to welcome Maria Sjödin as the new executive director of Outright International. The promotion from OutRight's deputy executive director is highly earned and well-deserved. Your work is an inspirational example of how to engage communities intentionally with the goal of sustainable change. We are excited to see the organization grow under further your leadership. Congratulations on the new position! 

Lorna Dias, Executive Coordinator, galck+
As co-chairs of the UN LGBTI Core Group, the Permanent Missions of the Argentine Republic and the Kingdom of the Netherlands congratulate Maria Sjödin for their appointment as the new executive director of OutRight. We look forward to continuing our close cooperation with OutRight towards ensuring universal respect for the human rights and fundamental freedoms of LGBTI persons.

Co-chairs of the UN LGBTI Core Group
Outright has made an outstanding selection of Maria as Executive Director. Having worked closely with them as a colleague in our movement for over a decade, there are few in a meeting whose opinion I value more. Maria is always precise, thoughtful, and holds the bigger picture and long view of any situation. I appreciate Maria's integrity, political perspective, and lack of personal ego in their leadership style. I have no doubt that Maria's track record of helping to grow the organization in the recent past will continue, with purpose and significance in this coming chapter of OutRight and queer history. 

Julie Dorf, Founder, OutRight Action International and Co-Chair, Council for Global Equality.
As the co-chairs of the Partnership for Global LGBTIQ+ Equality (PGLE), a coalition of organizations committed to leveraging their individual and collective advocacy to accelerate LGBTIQ+ equality and inclusion globally and drive positive change, we are delighted by the appointment of Maria Sjödin to the role of executive director of OutRight International. As members of PGLE, OutRight International has been integral in supporting our mission, collaborating with our corporate members and civil society partners to protect and promote the rights of LGBTIQ+ people wherever companies do business. We look forward to continued engagement with Maria and the OutRight team, and seeing the organization flourish under their leadership."

Clare Iery, Chief Human Rights Counsel – Senior Director, ESG Legal, P&G | Co-Chair, The Partnership for Global LGBTIQ+ Equality (PGLE)

Beck Bailey, Managing Director, Inclusion & Diversity, Accenture | Co-Chair, The Partnership for Global LGBTIQ+ Equality (PGLE)
Congratulations Maria Sjödin for your appointment as executive director of OutRight International. Congrats on this next step in your career and all of the growth, connections and opportunities that come with it.

Transbantu Association Zambia
Working with Maria over the years, in different spaces, but with a clear focus on the defense of human rights, has undoubtedly been an opportunity for mutual enrichment. Above all, I appreciate their keen eye and firm position to ensure that the objectives are achieved. They are an important piece for the advancement of feminism and the LGBT movement. 

Gloria Careaga, lesbian feminist activist and academic, Mexico
I am thrilled to learn of Maria's official appointment as executive director of OutRight. Not only does Maria have a wealth of experience to lead the organization into the future, but they are also a lovely human being who cares deeply about LGBTQI human rights and equality. As an intersex activist, I am also specifically heartened by Maria's commitment to further advancement of the global intersex movement.

Kimberly Zieselman, intersex activist and founder of InterAct, United States
Sincere congratulations to Maria on the new appointment! We met a few years ago and I know Maria as a dedicated activist who was always supportive, providing a lot of help to the LGBTQI movement in Ukraine. Since February 24th, when Russia attacked Ukraine, OutRight instantly reached out to us and offered support that provided us a possibility to survive and organize a system of humanitarian aid for LGBTQI Ukrainians. We are very grateful to Maria personally for their engagement and for their readiness to respond to the crisis that the war created and to offer a helping hand to our community that found itself in a very difficult situation. The contribution from OutRight was not just financial support; they stand behind us, they care, and they make us feel that we are not alone in this. We know that we can rely on this helping hand.

Lenny Emson, Executor Director of KyivPride, Ukraine
A person with a large heart, huge spirit and a divine personality. Maria has been instrumental in the growth of OutRight over the last 6 plus years and in the lives of many over the past decade. Their personality, drive, commitment, and accountability are beyond expectations. When I met Maria in 2008, what stood out for me was their type of leadership, which was inclusive; their willingness to teach and share skills, experiences, and open opportunities for others. I have been honored to share professional spaces and learn from them. They have enriched me with the knowledge but also the attitude to always pay it forward. From an associate to a colleague, to a person I have bonded with, Maria is our friend and family. 

Kenita Placide, Executive Director of Eastern Caribbean Alliance for Diversity and Equality (ECADE)
Gender Dynamix is excited for the appointment of Maria Sjödin. As former deputy director and subsequently acting director, we believe that they are well-positioned to lead the organization to new heights. We are familiar with their work as an activist and leader and therefore look forward to the future strategic direction of the organization. We wish them and the OutRight International team well as they continue to act as enablers for global LGBTQI+ human rights work. OutRight International remains a valued partner to Gender Dynamix and we look forward to continued collaboration in making positive change happen for LGBTQI+ people and communities.

Liberty Matthyse, Executor Director of Gender Dynamix
I've known Maria for a decade and have developed enormous respect for them. They're a smart, strategic, and empathetic leader who will build on OutRight's impressive record of accomplishments to help the organization reach new heights. With LGBTQ+ communities under assault across the globe, Maria's appointment will help this essential institution continue to lead the fight for international equality.

Kevin Jennings, CEO, Lambda Legal
Maria is a great leader. I know they will protect OutRight's legacy and brighten OutRight's future. I look forward to working with them.

Bella FitzPatrick,  Executive Director of IGLYO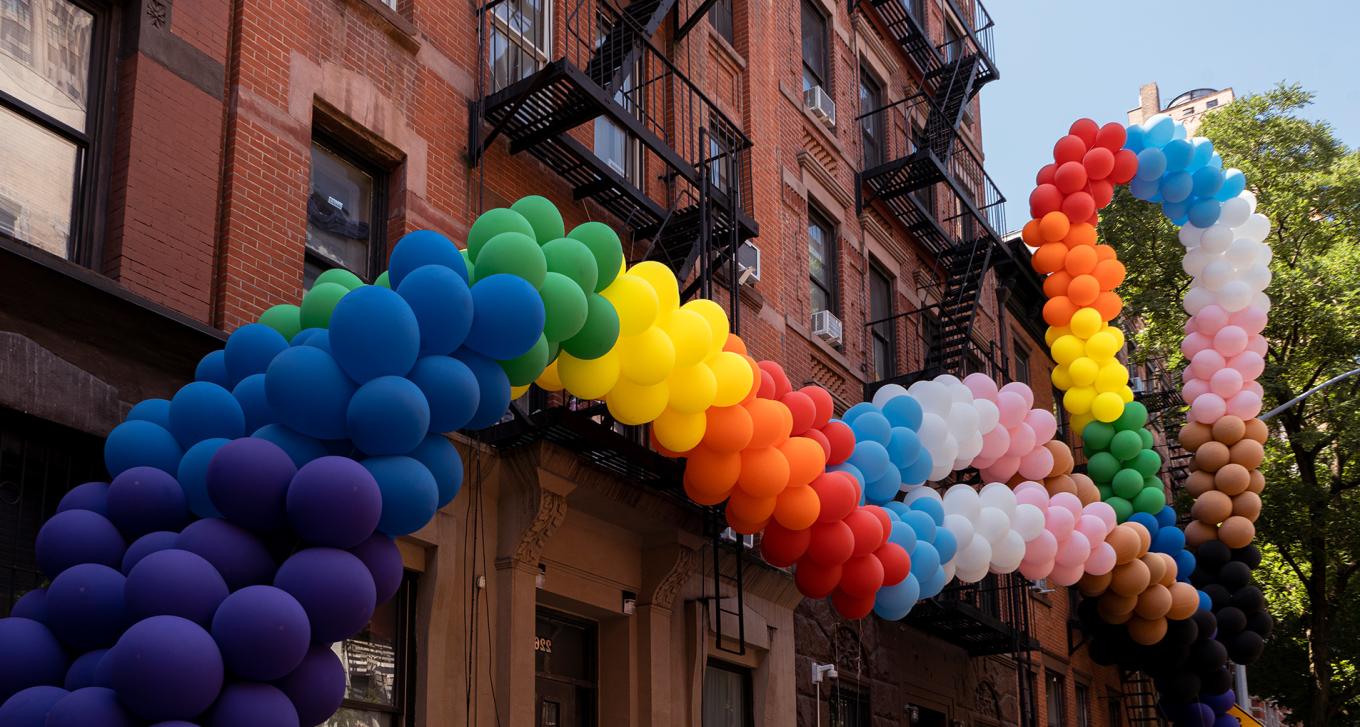 Take Action
When you support our research, you support a growing global movement and celebrate LGBTIQ lives everywhere.
Donate Now