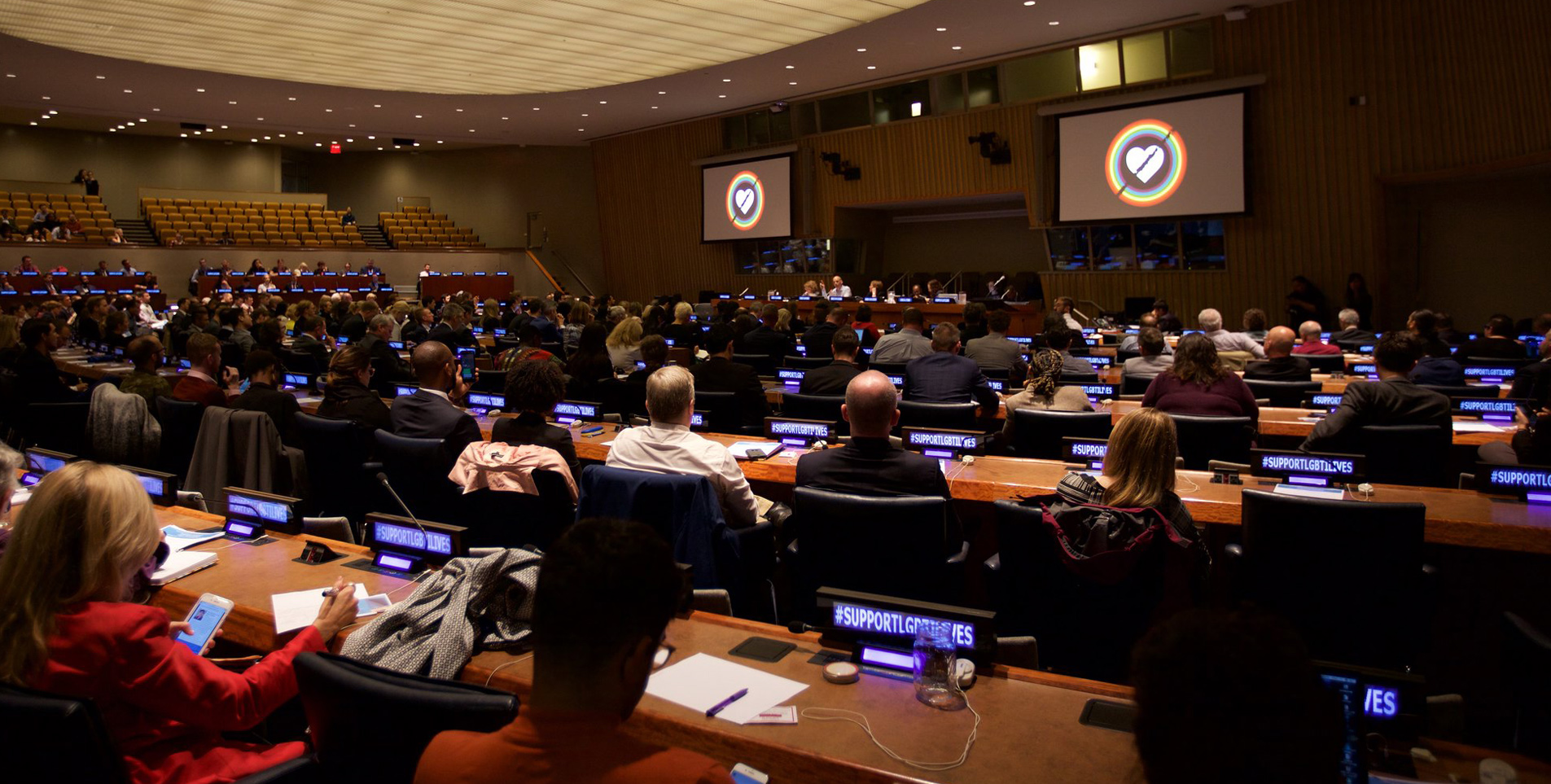 Our Work
United Nations Engagement
Outright International at the UN
Outright International holds a consultative status at the United Nations Economic and Social Council (ECOSOC). One of Outright's core areas of work is advocating for the advancement of the rights of LGBTIQ people at the United Nations.
The United Nations (UN) is the birthplace of the Universal Declaration of Human Rights, as well as the organization from which fundamental international human rights law originates. The UN sets global human rights standards, and facilitates processes for ensuring they are upheld by Member States.
Outright engages in UN dialogues, debates, special sessions and annual events at the UN-NY Headquarters, including with the UN General Assembly and the Security Council. Outright works to ensure that UN institutions recognize, affirm and protect human rights for all people,  regardless of sexual orientation, gender identity or gender expression and sex characteristics.
Our status as a United Nations Economic and Social Council (ECOSOC) organization gives us year-round access to advocate for the human rights of LGBTIQ people directly with representatives of Member States and UN agencies at the UN Headquarters in New York. Outright brings LGBTIQ advocates and civil society leaders from around the world to engage with UN processes as briefers on country and regional discussions and as experts on thematic issues relating to sexual orientation, gender identity, physical characteristics and expression.
Outright is a co-founder and Secretariat of the UN LGBTI Core Group, an informal group of 42 Member States, the delegation of the EU, the Office of the High Commissioner for Human Rights, Human Rights Watch and Outright International. Together, we collaborate to mainstream LGBTIQ human rights at the UN headquarters in New York.

Influencing Global Policies
Outright and other organizations write submissions to UN agencies, independent experts and other international mechanisms . Over the years, Outright and partners have submitted dozens of reports focusing on the human rights of LGBTIQ people everywhere to United Nations mechanisms. These reports create an invaluable record of human rights violations from the perspective of LGBT communities themselves.
View Our UN Reports
Helping Set Global Human Rights Standards
Outright's presence at the UN Headquarters highlights the need to include LGBTIQ people and movements in all of the human rights discussions happening internationally. Throughout the years, the movement has seen some accomplishments along the way.
Independent Expert Mandate
Outright participated in the civil society coalition that pushed for the creation of the mandate of the Independent Expert on violence based on sexual orientation and gender identity and its renewal
General Assembly Resolutions
Outright advocated for the only two General Assembly Resolutions that mention the protection on the basis of sexual orientation and gender identity
Peace and Security
Outright is a member of the NGO Working Group on Women, Peace and Security. We bring LGBTIQ leaders to brief Security Council sessions, including the Informal Expert Groups on country situations and open debates. We also bring our expertise to the table to ensure that the concerns of LGBTIQ people are addressed in humanitarian law, and in UN - led measures relating to conflict and security.
Advocacy Week
Every year Outright brings LGBTIQ leaders and advocates from across 5 regions to New York for Advocacy Week. This program gives civil society advocates the opportunity to engage in bilateral meetings with UN Missions, regional blocs, and meet with leaders at UN agencies and partner organizations to present the concerns of LGBTIQ communities and influence multilateral decision-making.
Together we make an impact.
We advocate. As a global LGBTIQ organization that consults and has a permanent presence at the United Nations, we serve as secretariat and act as a watchdog on all 193 world governments.