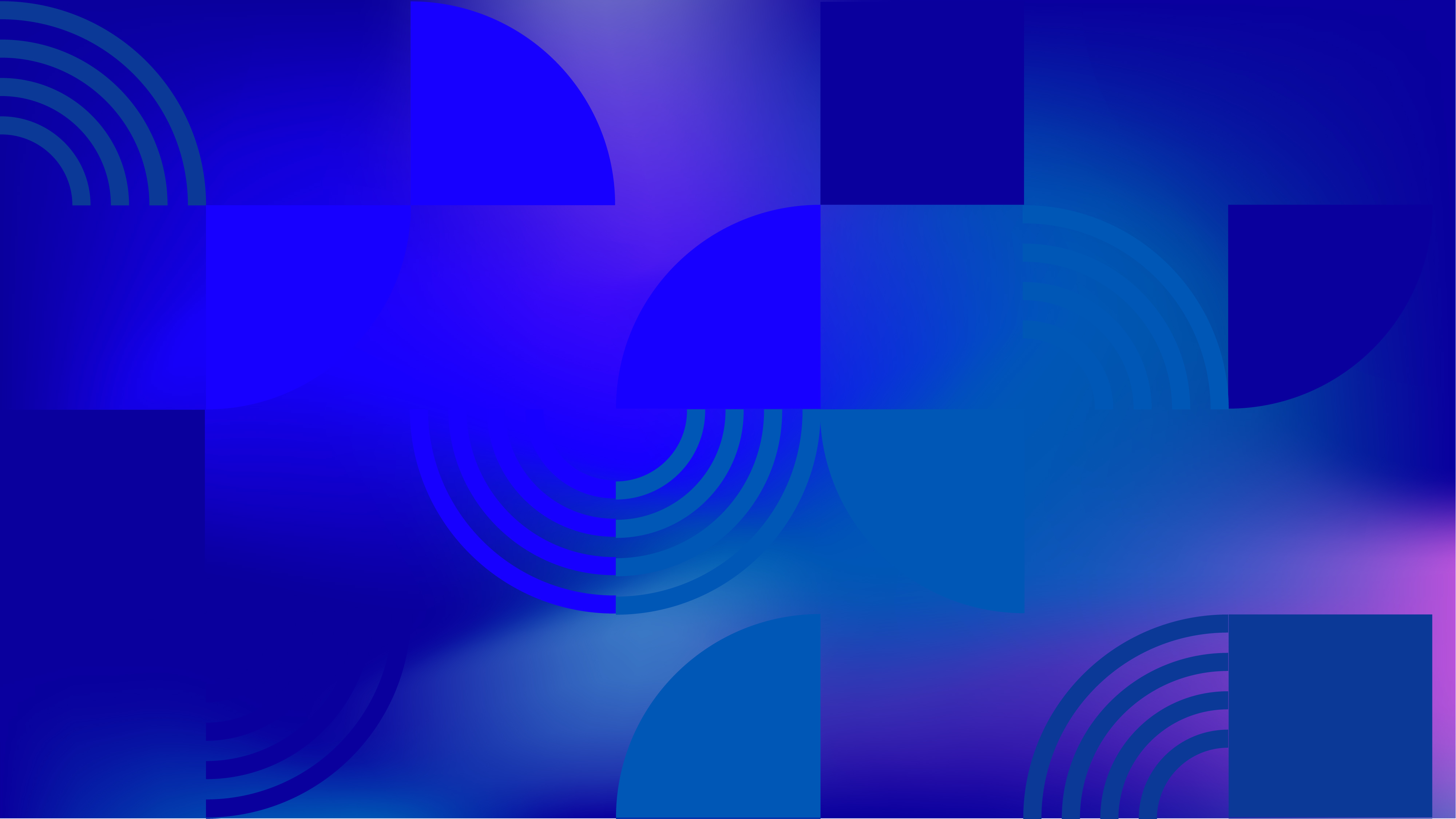 Report
Freedom of Assembly and Association: The Global State of LGBTIQ Organizing
Publish Date
September 14, 2023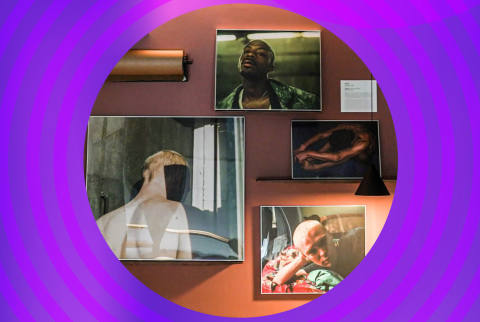 Read the Full Publication
Outright International publishes a new report, The Global State of LGBTIQ Organizing: The Right to Register and the Freedom to Operate 2023. This report assesses the ability of LGBTIQ people to register associations and build movements, in comparison with Outright's 2018 findings on the subject.
Outright finds that as of 2023, out of 196 countries, including all 193 UN member states, Taiwan, the Occupied Palestinian Territory and Kosovo, LGBTIQ organizations can register and operate openly only in 93 countries. In 75 countries, LGBTIQ organizations exist but cannot register and operate openly, and in 26 countries, Outright could not identify any known LGBTIQ civil society organizations, formal or informal. In at least two countries, nascent groups exist but it remains unclear whether registration as openly LGBTIQ organizations is possible.
Our 2023 report examines changes that have occurred in the last five years since Outright's first report on LGBTIQ organizing, including legal and political dynamics that negatively or positively impact LGBTIQ organizations' ability to institutionalize, form sustainable local and national movements, and promote the human rights of LGBTIQ people everywhere. In addition to results from a global survey, this report presents regional analysis and nine country case studies from Algeria, Angola, China, Ghana, India, Indonesia, Nicaragua, Uzbekistan and Yemen. It urges governments to repeal laws criminalizing same-sex acts between consenting adults and gender diversity, as well as laws mandating the registration of organizations as "foreign agents" which require disclosure of their sources of funds.
Findings on LGBTIQ Organizations' Registration Globally
Sub-Saharan African
In sub-Saharan Africa, civil society organizations face challenges in openly registering as LGBTIQ organizations in many of the countries surveyed. The widespread institutionalization of homophobia, transphobia and, more overtly recently, intersexphobia, combine to create hostile climates for LGBTIQ organizations to exist and operate.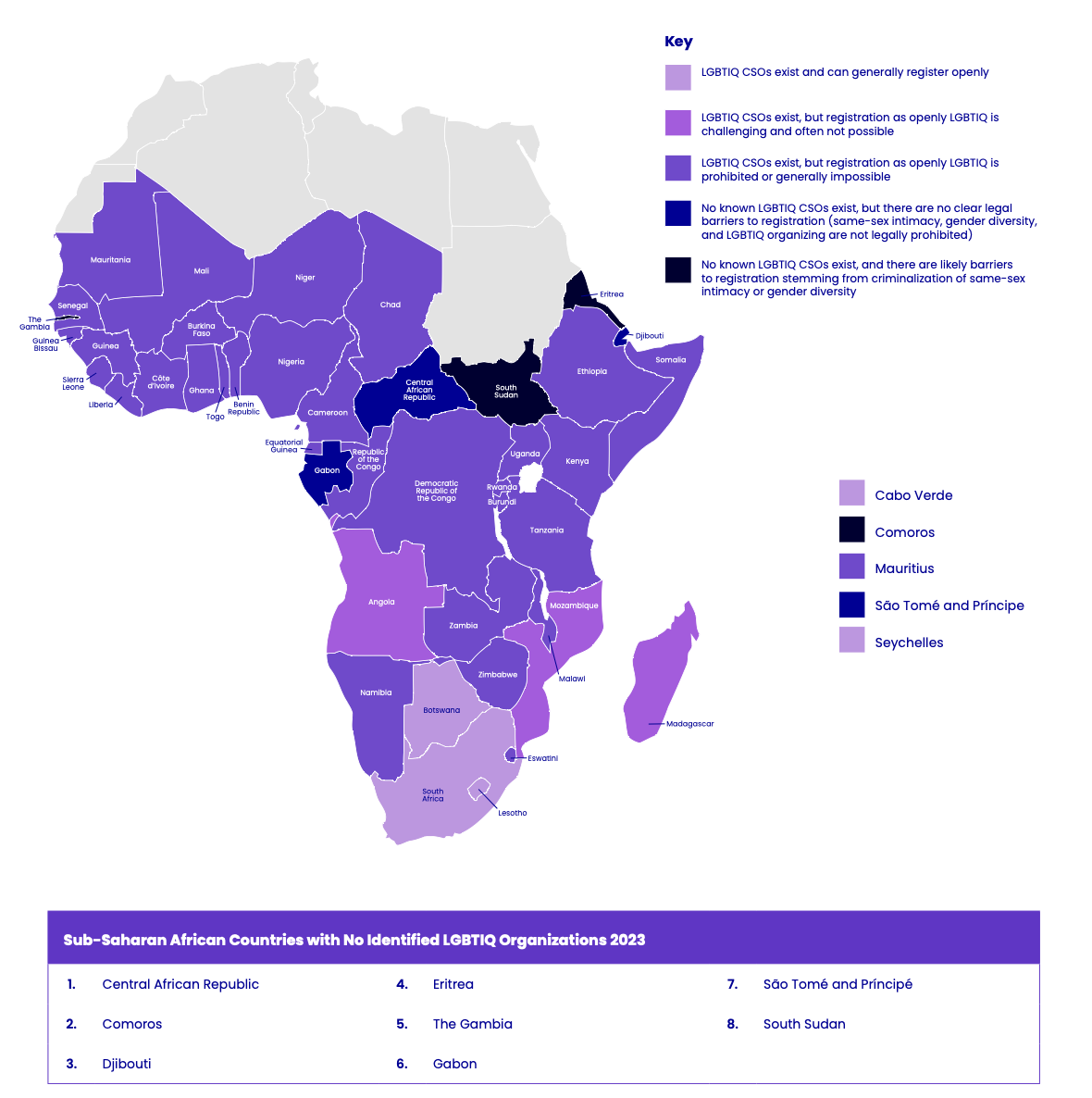 Asia and the Pacific
LGBTIQ activism in Asia and the Pacific is robust, but, as also found in 2018, legal, social, and bureaucratic realities impede registration. The diversity rife in this region makes identifying broad regional trends challenging. Among the 42 Asian and Pacific countries Outright surveyed, activists stated that it is possible for LGBTIQ organizations to register openly in 14. In nine Asian and Pacific countries, Outright could not identify any LGBTIQ organizations in 2023. Many Asian and Pacific LGBTIQ groups register as general human rights organizations where laws and negative social perceptions impede their ability to register and operate openly.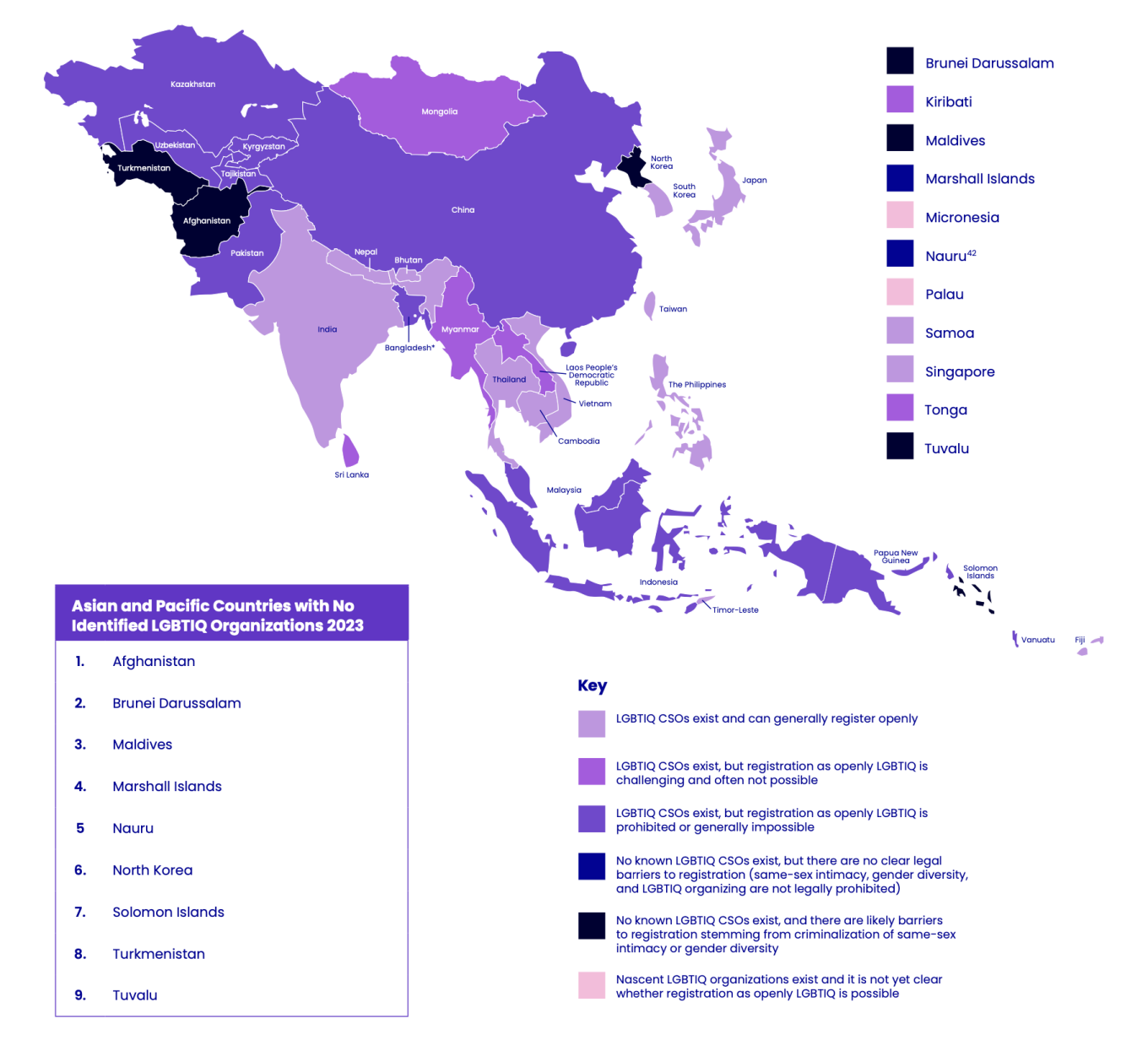 The Caribbean
In the Caribbean, many LGBTIQ organizations operate publicly even though they experience legal restrictions, institutional impediments, and social biases fueled by religious norms. The region stands out as one in which criminalization of same-sex relations has not, at least in the last decade, held back the development of an outspoken movement. The positive momentum in LGBTIQ organizing in the Caribbean, identified in Outright's 2018 report, continues. LGBTIQ organizations and activists continue to challenge repressive laws, lobby for more inclusive laws, and work towards changing negative social perceptions about sexual and gender diversity.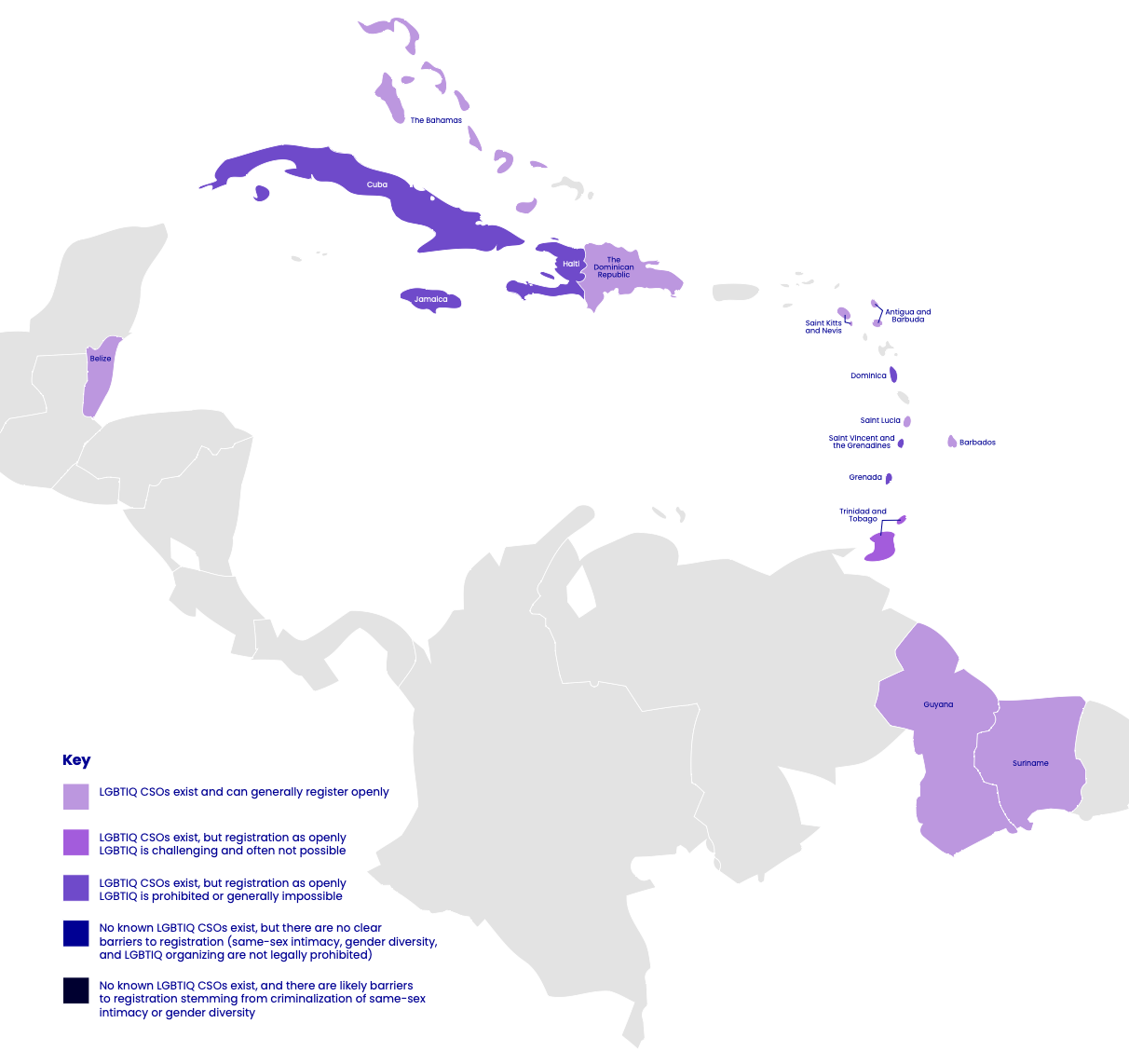 Middle East and North Africa
LGBTIQ organizations are unable to register and operate openly in most of the Middle East and North Africa due to pervasive criminalization, religiously motivated LGBTIQ-phobia, and a general hostility toward civil society emanating from many authoritarian-leaning regimes across the region.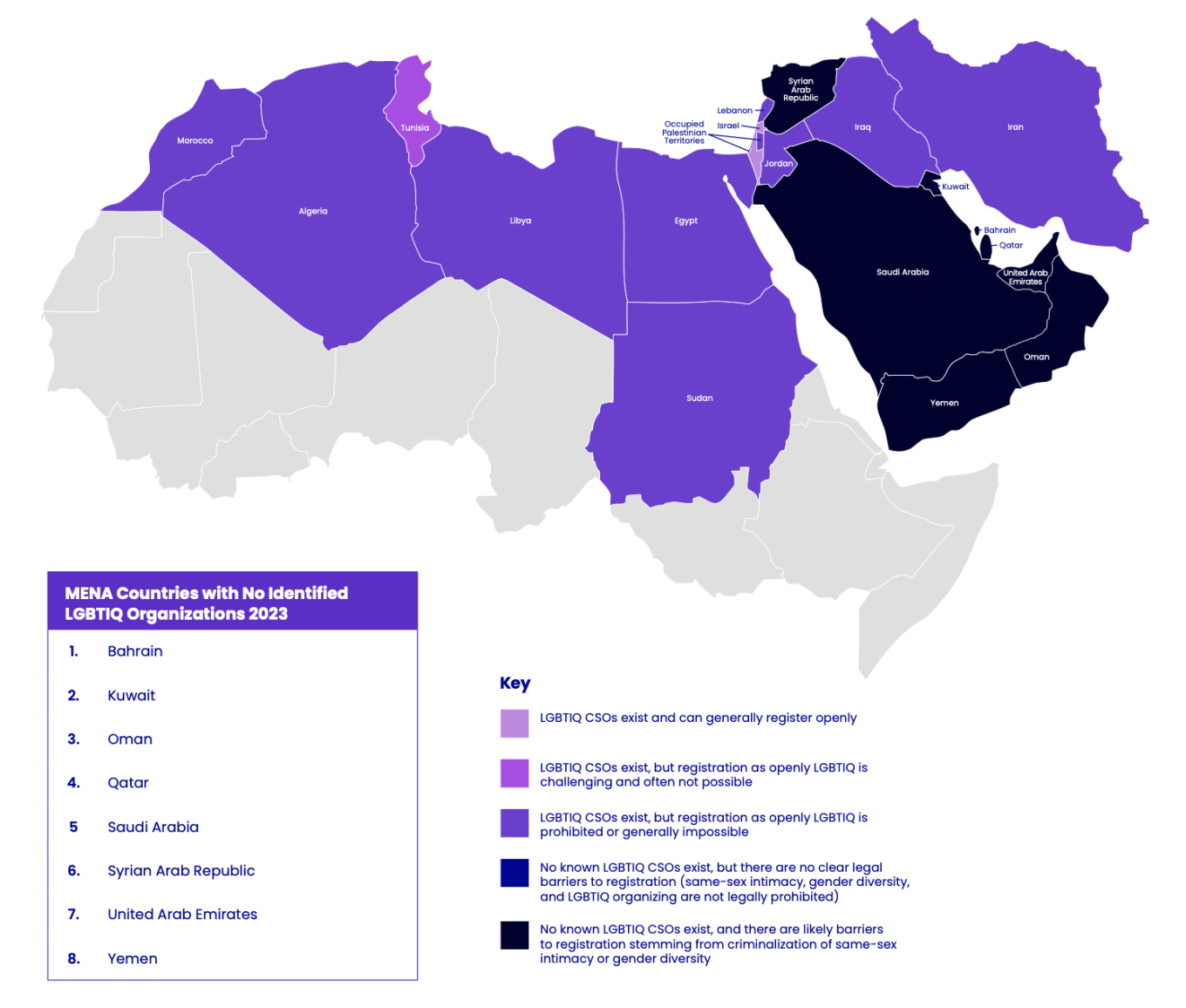 Eastern Europe
Countries in Eastern Europe have demonstrated some progress in recent years in terms of LGBTIQ organizing. In many countries in this region, activists can register organizations as clearly LGBTIQ rights-centered, without legal or social restrictions. In other countries, while national legal frameworks are generally progressive and have provisions for nondiscrimination, hostile political rhetoric and societal pushback prompt fear of violence among LGBTQ people and movement leaders.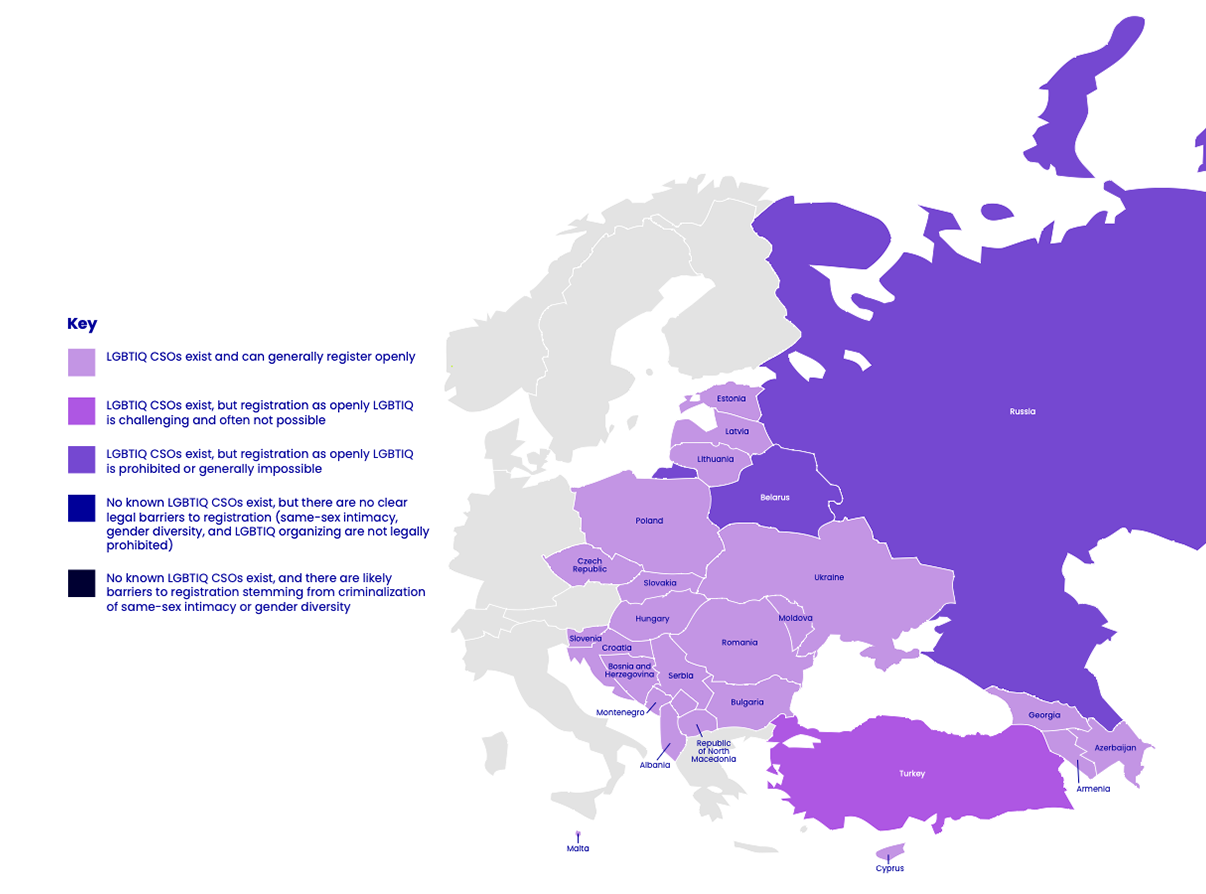 Latin America
In some countries in Latin America, political and legal developments have advanced the rights of LGBTIQ people and allowed LGBTIQ organizations to operate freely. Here, Outright surveyed 17 countries, finding that LGBTIQ organizations can register freely in nearly all of them, although in Nicaragua, state hostility toward independent civil society threatens LGBTIQ organizations' ability to register and operate.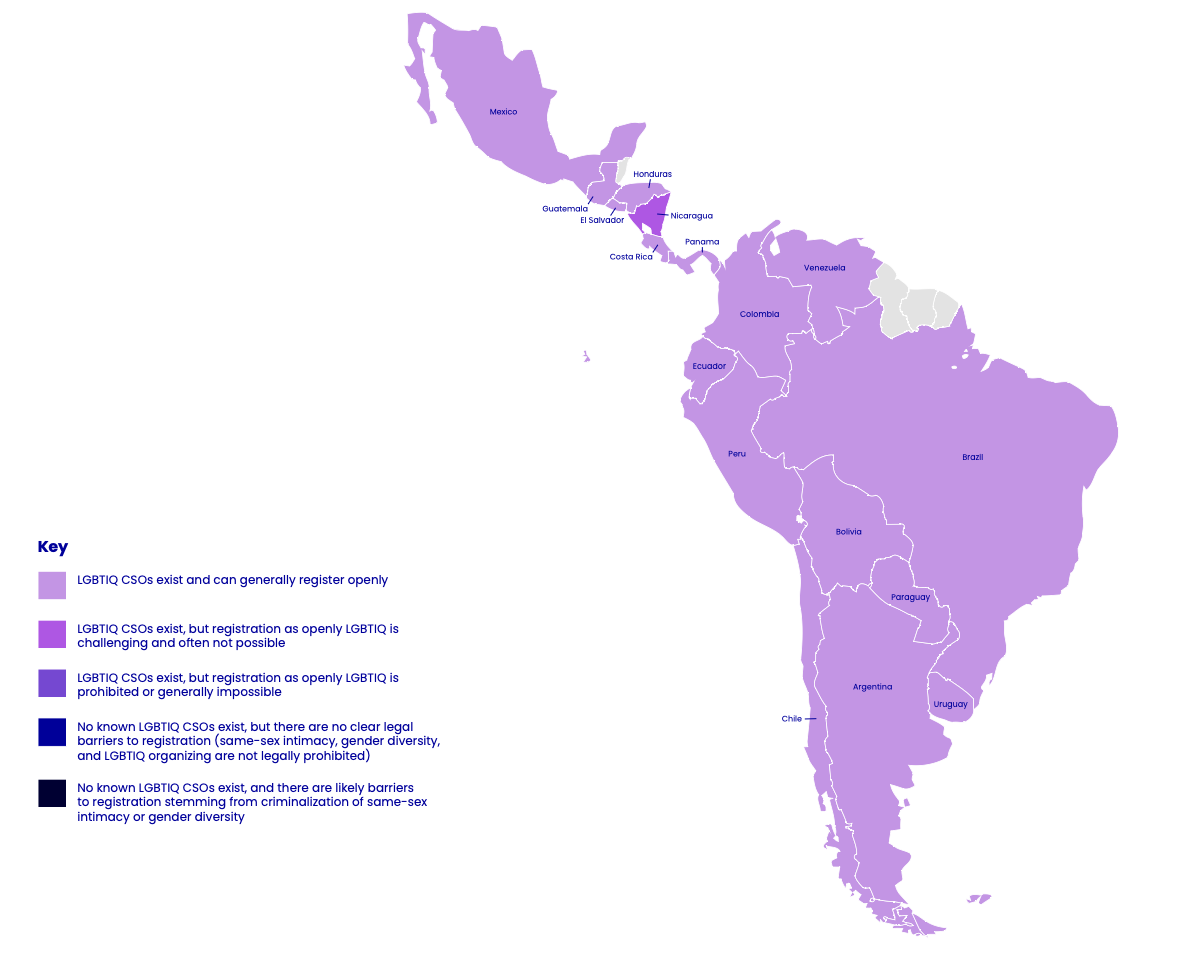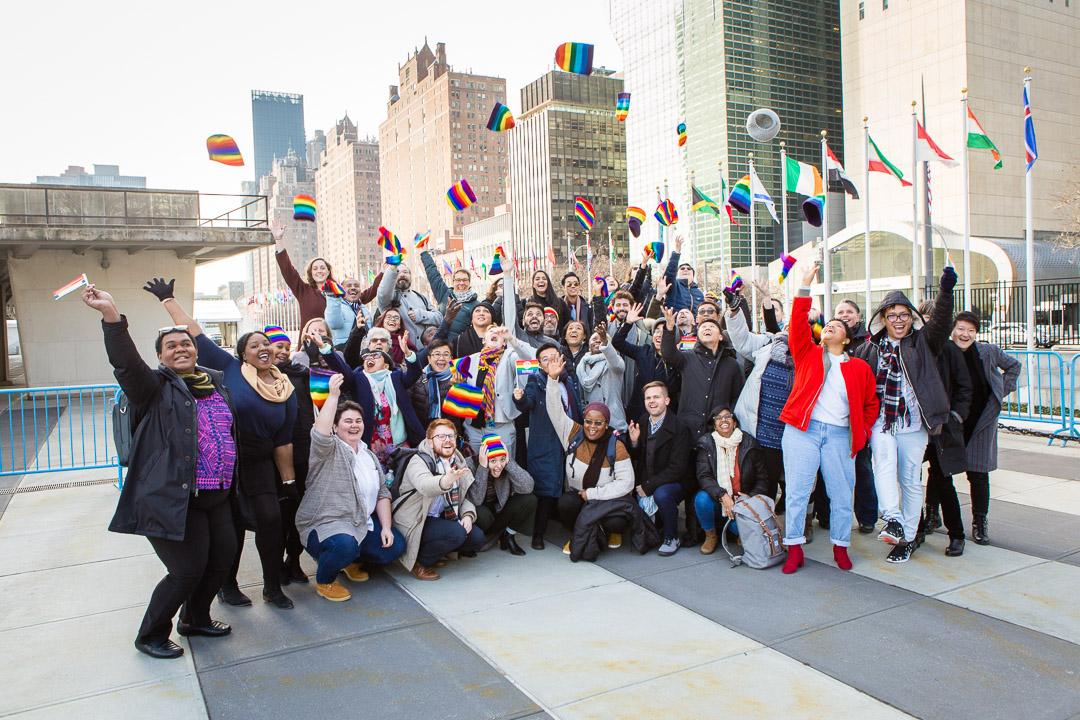 Explore News and Commentaries
We share news, cultural media and advocacy of partners, activists and experts through the lens of LGBTIQ people working on international human rights.
Read Our Insights