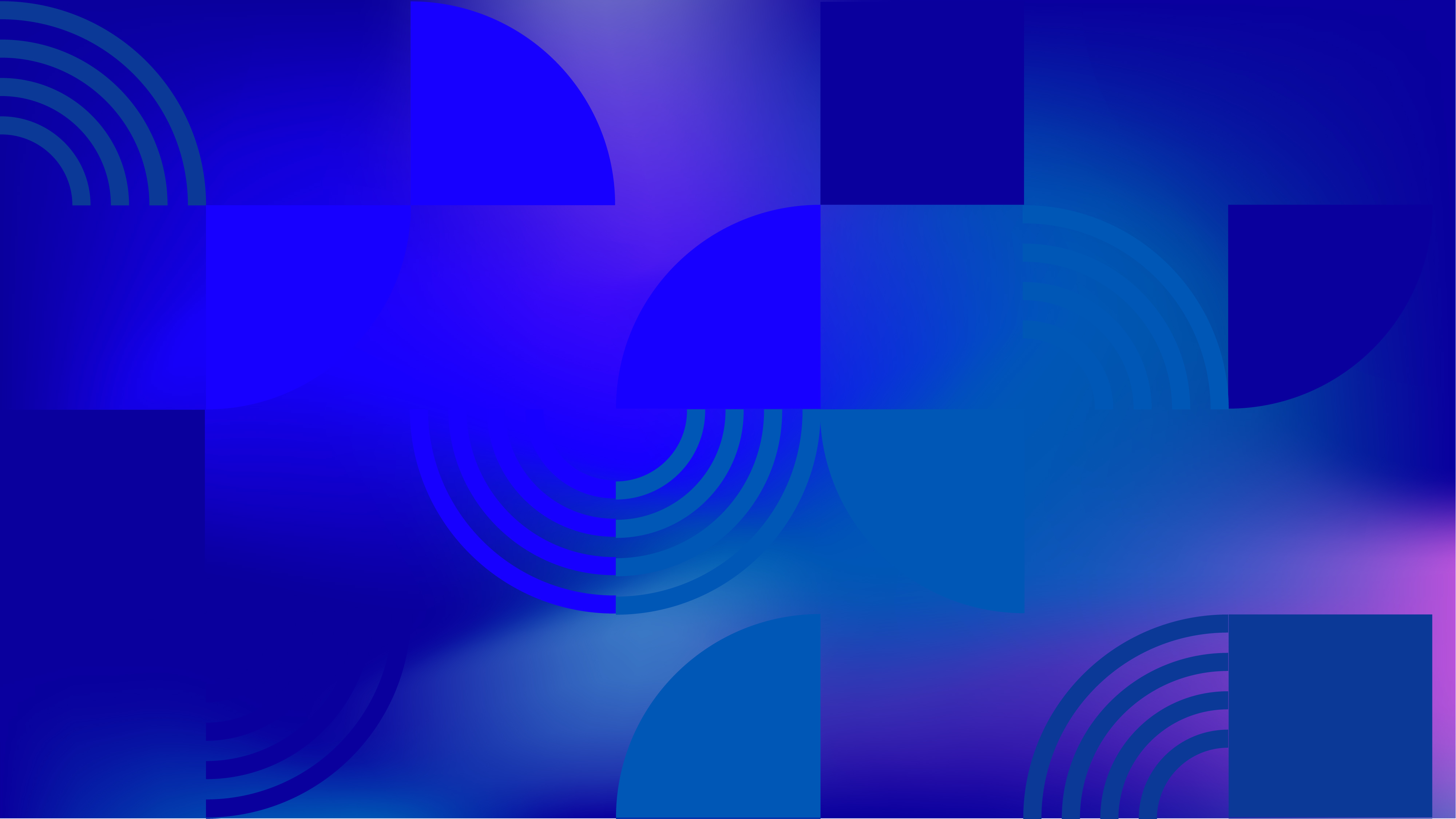 Insights
It's Important to Fight Every Single Day: Kyiv Pride Comes to Warsaw
With shouts of "Glory to Ukraine" and "F— Putin," thousands of Poles marched through the streets of Warsaw on Saturday alongside a delegation of Ukrainian lesbian, gay, bisexual, transgender and queer (LGBTQ) activists. 
The queer-led March for Peace, organized by the Warsaw Equality Parade and KyivPride, was a historic show of solidarity for Ukraine's queer community amidst Russia's assault on the country. The war has transformed LGBTQ organizations on both sides of Ukraine's borders, including in Poland, as advocacy groups turned themselves overnight into humanitarian and shelter organizations to support queer people inside Ukraine or forced into exile. 
"We call on the queer communities of Europe and the world to show their maximal solidarity with Ukraine today," said Lenny Emson, KyivPride's senior managing director, at a speech kicking off the march. "When we celebrate the victory, you will come to Kyiv Pride and march with us."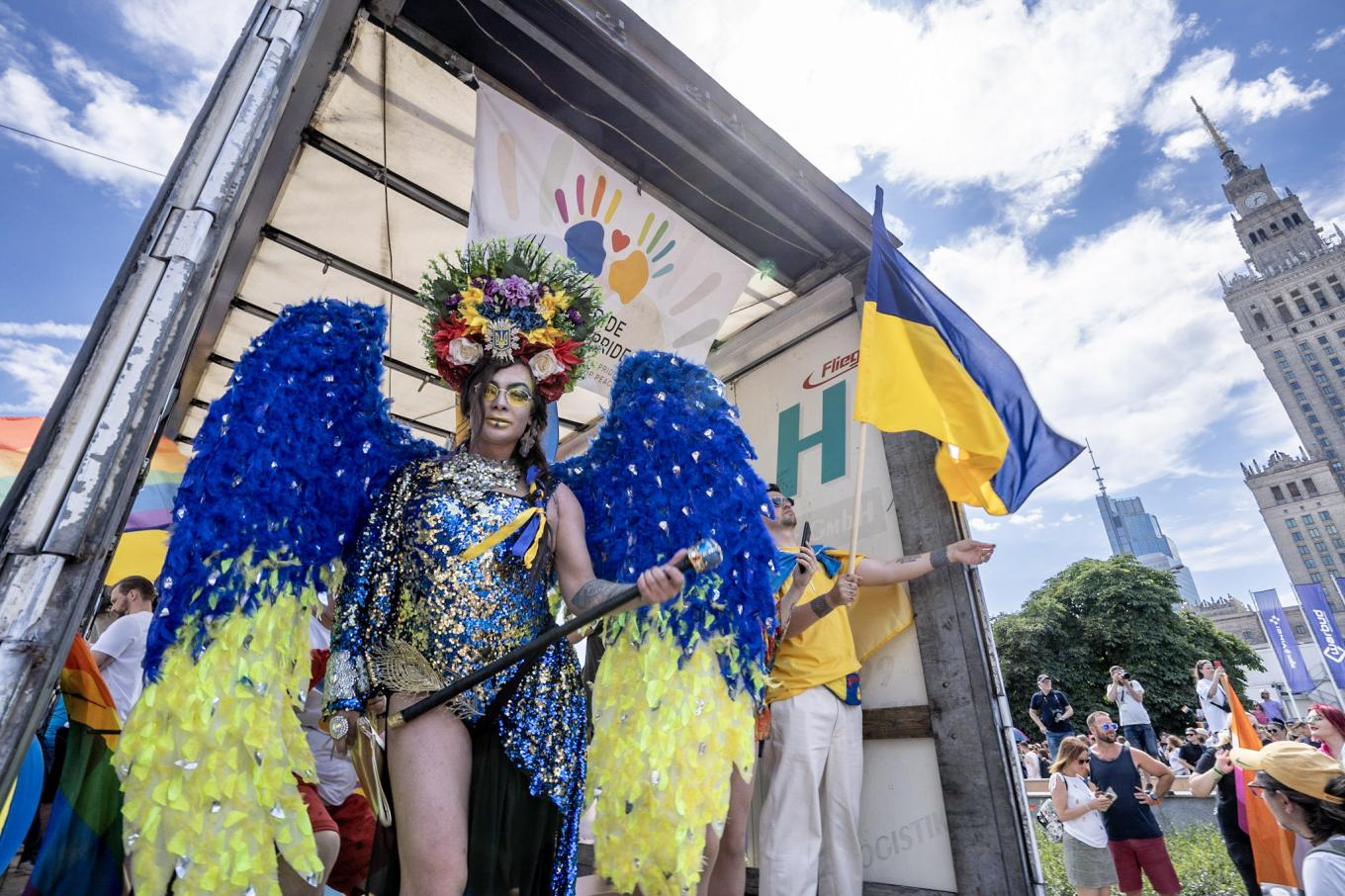 KyivPride arranged to bring more than 30 activists representing at least 11 different Ukrainian organizations to Warsaw: Alliance Global, Odesa Pride, Cohort, Gay Alliance Ukraine, Insight, Gay Alliance Ukraine Vinnitsa, Kharkiv Pride, Sphere, Virus Off, Specter, and LGBT Association LIGA. 
The Ukrainian activists gathered the night before the march in the offices of the Polish organization Campaign Against Homophobia. I joined the meeting as a representative of Outright, which has provided financial support to 35 LGBTQ and intersex organizations in Ukraine and neighboring countries for their humanitarian work in response to the war. It was an emotional meeting for many participants, who were seeing each other for the first time since the war began in February. During a round of introductions, several mentioned they were representing colleagues who could not participate because Ukraine forbids people with male identification documents from leaving the country, a policy that has restricted the movement of transgender women as well as cisgender and transgender men. 
This was also the first time many of the activists had been out of Ukraine since the war began, and they found Warsaw's celebratory atmosphere somewhat surreal. As a group headed out for drinks at an outdoor bar on the grounds of Warsaw's iconic Palace of Culture, one said, tearing up, "I just think of all the members of my community who can't have this." 
But they were momentarily swept up in the environment, dancing when the DJ spun "YMCA" and posing for photos with pride flags.
But the war was never far away. On the morning of the march, said Olena Hanich of Gay Alliance Ukraine, the first thing she did was check how many bombs Russia had dropped on Ukraine the previous night. "I can't let go," she said. She said she could feel the air shift as she made her way through the Polish crowds to prepare to march with the Ukrainian delegation. Many people were there to party, she said, but "it's a kind of rally for us. It's important to fight every single day."
Yevheniia Kvasnevska of Odesa Pride said it was an entirely new experience to go to a pride march that felt like a party. Pride marches in Odesa have been held under threats from a far-right group.
"This is my first festive parade, my first safe pride." Kvasnevska said. "You can feel the festivity here."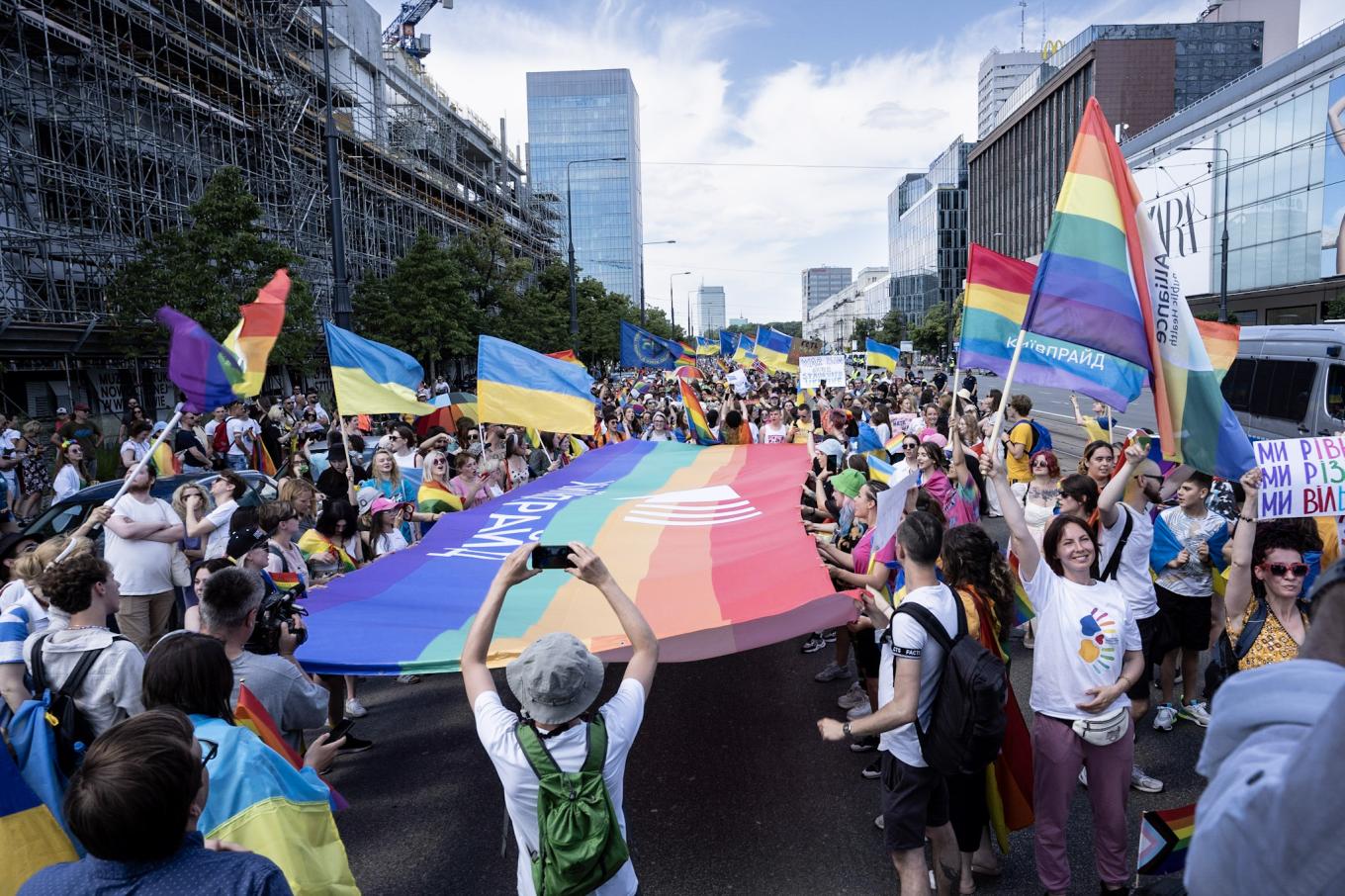 Despite the sense of safety some Ukrainians experienced at the march, Polish LGBTQ people also understand Pride as contested territory. The leader of Poland's ruling Law and Justice (PiS) party, Jaroslaw Kaczyński, has described Pride events as "traveling theater" that must be "unmasked and discarded," and over 100 Polish localities have declared themselves "LGBT-ideology free zones." In 2019, counter protestors physically attacked and injured dozens of marchers at a Pride event in the northern city of Bialystok, Warsaw Equality Parade's hosting of Ukrainian exiles sends the Polish authorities an important message that if Poland is to make good on its rhetorical welcome to Ukrainian refugees as "guests," it must accept them in all their diversity. Polish activists also came to the march with demands for their government regarding protections from discrimination and recognition of partnership and parenting rights for same-sex couples.
 
Unlike in previous years, this year's march was not visibly targeted by far-right rhetoric, and it remained festive–circling central Warsaw with the Ukrainian float at its head, presided over by Ukrainian drag queen Marlen Scandal,  dressed as a guardian angel with elaborate wings and a floral headdress. "Mariupol is Ukraine! Kherson is Ukraine! Crimea is Ukraine!" the marchers shouted, naming cities and regions Russia has claimed or attacked. In between chants, they danced to Ukrainian pop songs as the sun beat down strong and hot.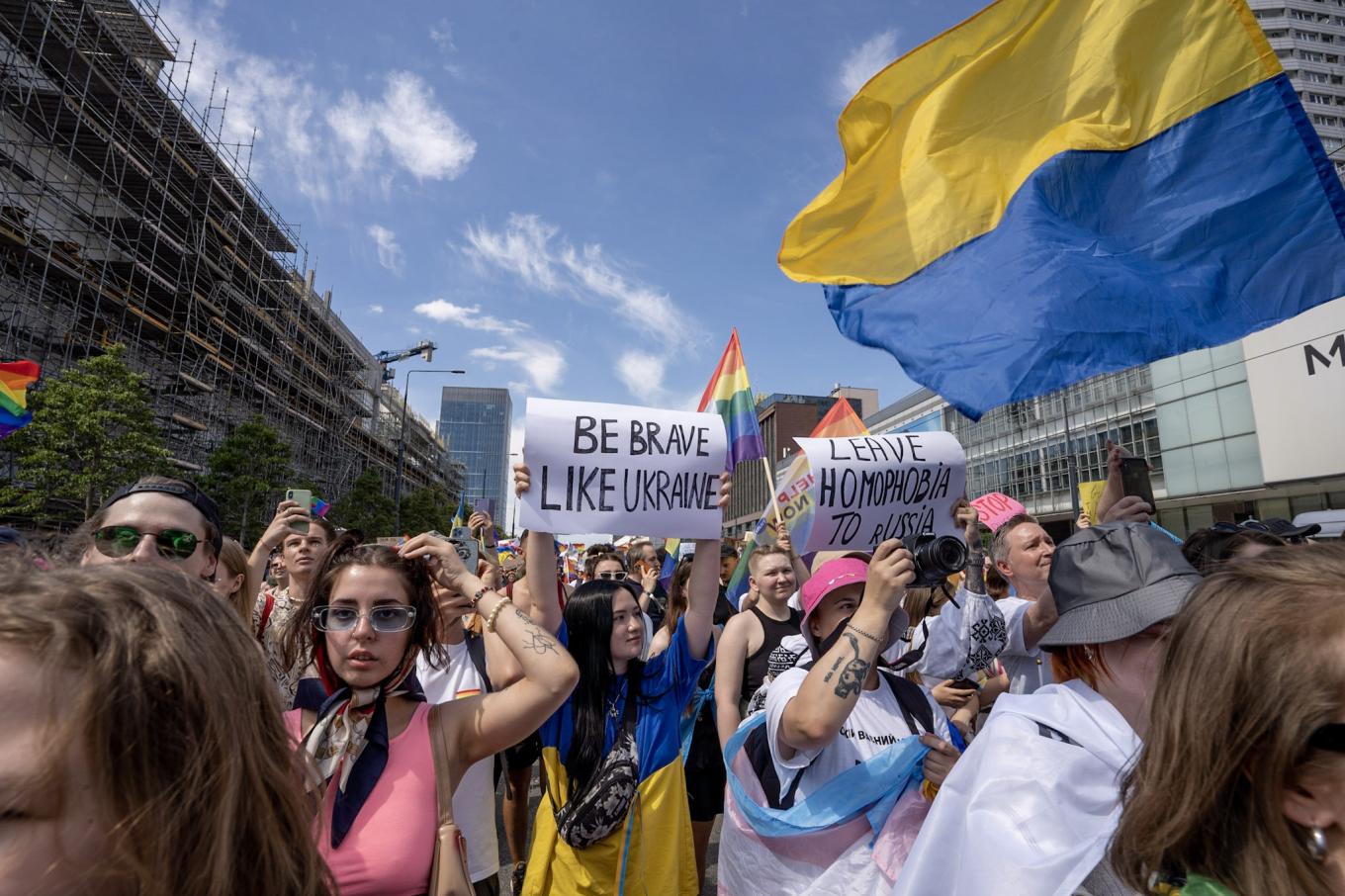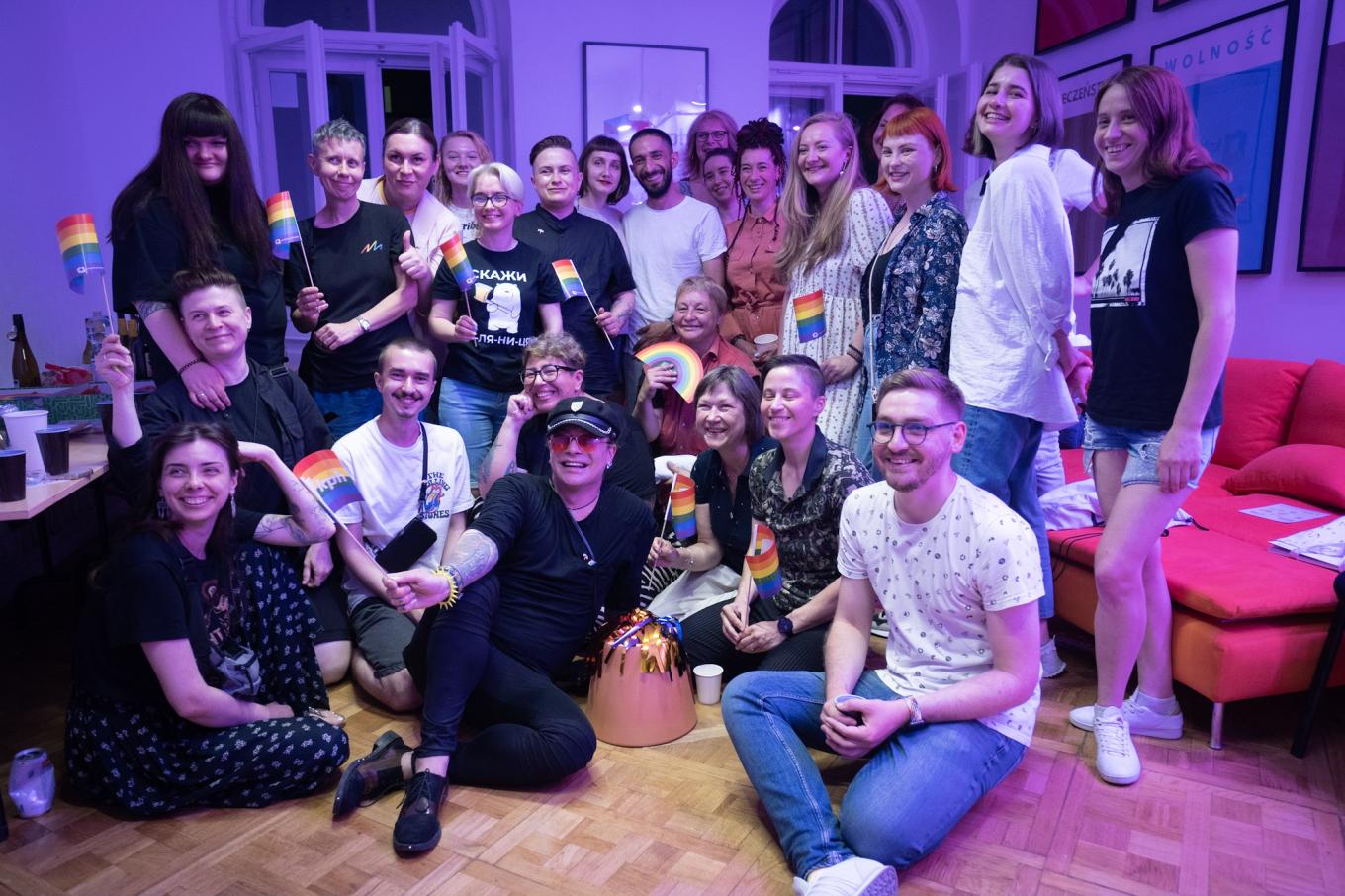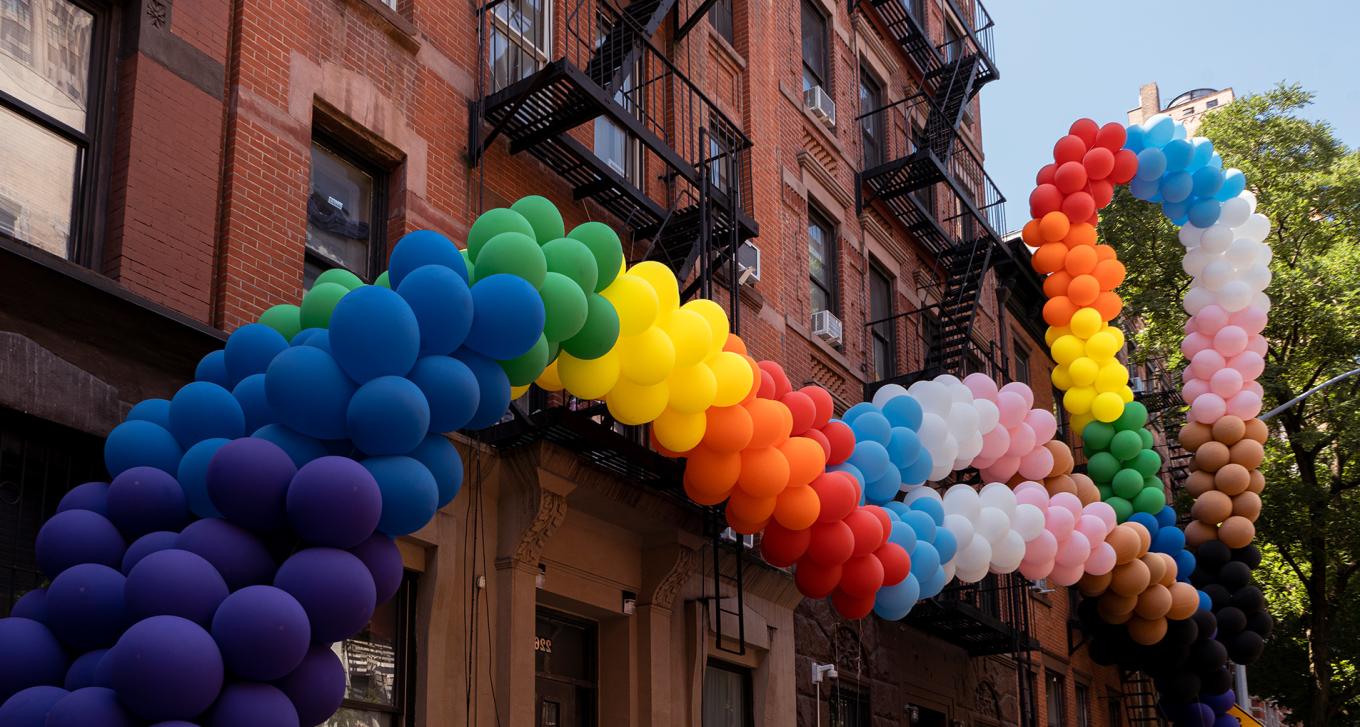 Take Action
When you support our research, you support a growing global movement and celebrate LGBTIQ lives everywhere.
Donate Now